Tetra aquarium Starter set 80l
The Tetra Starter Line aquariums are ideal for all newcomers to the world of fishkeeping. They not only come in different sizes (30, 54, 80 and 105 litres) but also with helpful features and all the essential technical equipment. The glass aquariums are particularly sturdy and the panes are made from special float glass to offer you an undistorted view of your aquatic creatures from all angles. A practical feeding flap in the lid allows you to feed your fish easily without having to remove it entirely. The LED light integrated into the lid illuminates your aquarium with bright, natural light while also being extremely energy efficient and durable. The Tetra EasyCrystal Filter also provided in the set keeps the water clean and crystal clear by reliably eliminating dirt and algae. This functions as follows: With biological filtration, useful bacteria can settle on the filter sponge. With mechanical filtration, on the other hand, a filter fleece removes even the tiniest floating particles from the water. Best of all: the replaceable filter cartridges mean you never have to spend ages cleaning the filter housing. The cartridges are easy to insert – without even getting your hands wet! For optimum water quality, you should replace the cartridges every four weeks. The set contains one spare filter cartridge. The complete sets of the 54, 80 and 105-litre aquariums also include a heater that keeps the water temperature at 25°C. Further information on stocking the aquarium can be found on the relevant aquarium packaging. The simple set-up and impressive technical equipment make the Tetra Starter Line aquarium the ideal choice for any newcomer to the world of fishkeeping.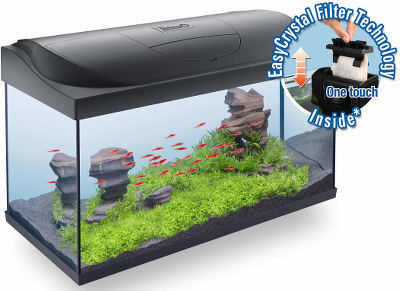 Complete aquarium set
The ideal starter set providing a simple and safe introduction to a fascinating underwater world.
Easy installation, personal set-up, simple maintenance. Just plug in and you're ready to go as the equipment, feed and care products are all included.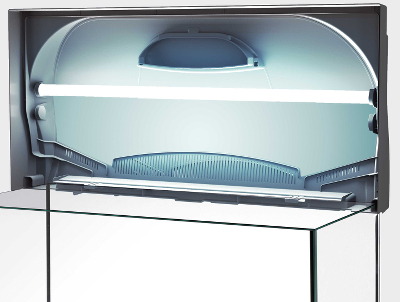 Lightning
High-quality, stylish cover with 16-watt LED lighting and a convenient feeding hatch.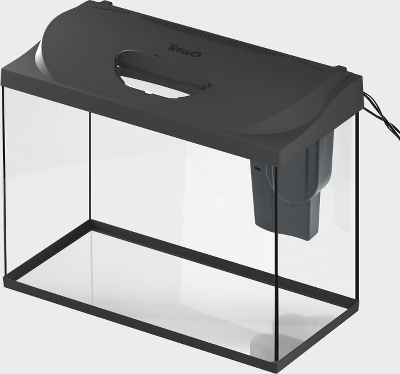 A sturdy glass
A sturdy glass aquarium with the following dimensions: 76 x 48 x 37 cm (105 L volume) and 5 mm thick glass.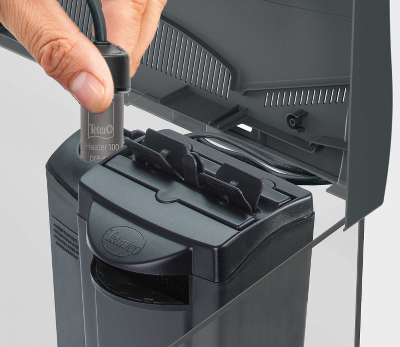 EasyCrystal Filterbox
Effective Tetra EasyCrystal Filterbox providing modern, clean and efficient filtration – supplied with two filter cartridges. Reliable 100-watt heater – preset to 25°C.

Details
Sturdy aquarium tank with 6-mm-thick glass
Robust lid with a practical feeding flap
Energy-efficient, 16-watt LED lighting
Powerful Tetra EasyCrystal Filter (7.5 watt) with two replacement cartridges
Reliable 100-watt heater – preset to 25°C
TetraMin staple food and Tetra AquaSafe water conditioner included
Aquarium dimensions including lid (WxHxD): 76 x 48 x 37 cm
Dimensions in packaging (WxHxD): 78 x 49 x 37 cm
Heater, filter, light: TÜV or VDE-certified